The Diagnostix Group
We are the market leader in providing Quality, Ethical, Professional, Internationally recognized laboratory services to the medical professions and the general community.
Since 1985
It all started way back in 1985 when Dr. Keeng Wai CHAN1 left his post as Head of the Pathology Department at Princess Margaret Hospital. Dr. Chan started a private practice under the name of Diagnostix Pathology Laboratories with Dr. Shiu Hon CHUI2 assisting in looking after the quality control program. In 1987, the first medical laboratory was established and in 1991, Dr. K. W. Chan and Dr. S. H. Chui set up Diagnostix Medical Centre Limited (DMC) in Central. This has become the head office of the Group's medical laboratories.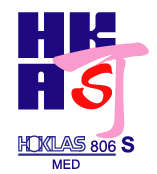 Present (HOKLAS accredited)
At present, The Diagnostix Group has two main divisions:
A) Pathology Laboratory and
B) Clinical Laboratory
Under the direct supervision of Dr. K. W. Chan and Dr. S. H. Chui, the Group has two laboratories and five collection centres strategically located throughout Hong Kong. Please refer to the back cover for detailed addresses and location maps.
Managed and operated by pathologists and clinical scientists and staffed by qualified technologists and professionals who are registered with the Medical Laboratory Technologists Board of Hong Kong, and supported by a team of full time couriers, guaranteed turnaround time for most routine tests will take no more than 24 hours, and for specialized tests about 2-3 days. DMC laboratories are covered under a Professional Indemnity Policy against any professional liability.
Hong Kong Accreditation Service (HKAS) has awarded The Diagnostix Group with accreditation in medical testing. HKAS is under the Innovation and Technology Commission of HKSAR, operates a Hong Kong Laboratory Accreditation Scheme (HOKLAS) which is opened to any Hong Kong laboratory that performs objective testing falling within the scope3 of the scheme and meeting the HOKLAS criteria and standards.
Accreditation by HKAS through HOKLAS is an assurance that DMC is competent to perform specific tests to meet internationally recognized standards.
1 Dr. Keeng Wai CHAN MBBS (Adelaide), FRCPath, FRCPA, FHKAM (Pathology), FHKCPath
2 Dr. Shiu Hon CHUI PhD in Clinical Biochemistry, PhD in Chinese Medicine, FIBMS, CChem FRSC, FHKSCC, CSci
3 For destails of scope, please refer to the official websites below: https://www.itc.gov.hk/